Carlson Family Foundation welcomes Elly Kjeldbjerg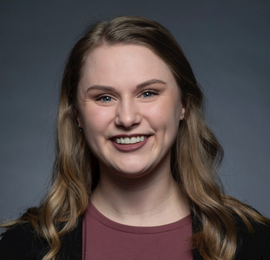 We're pleased to announce that Elly Kjeldbjerg has joined the Carlson Family Foundation as our new program associate.
In this role, Kjeldbjerg will collaborate with the program and grants management staff to support program administration, grants management, evaluation and learning, and relationship management. She will work across all of the Foundation's funding priorities, including Constellation, Sex Trafficking Prevention and Vibrant Communities.
Kjeldbjerg most recently served as community impact operations specialist for Greater Twin Cities United Way. Her career journey has included roles supporting youth with disabilities, grantmaking for programs that create meaningful career pathways for young people, and serving as an associate board member for a youth health and education organization.
"We're excited to have Elly join our team and support our relationships with our community partners," said Aretha Green-Rupert, program director, Carlson Family Foundation. "Her experience with youth- and community-centered operations will be an asset as we work to learn and grow with our partners."
We hope you'll join us in welcoming Elly!